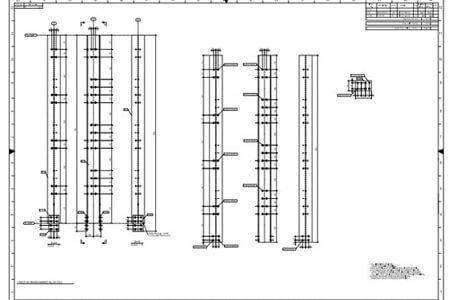 Assembly drawings
We have more than 10 years of experience in Assembly drawings Assembly drawing is a kind of presentation of structure or product with all the details and its components together. All components are fabricated separately but assembled. Assembly Drawing is a part of Shop drawing services and Fabrication Drawing services.
TOTAL ENGINEERING CONSULTANTS LLC have an intelligent team to understand the need of clients for assembly drawings. Assembly drawing's precision is based on how the assembly instructions are clear and easy to follow because the more components more the detailed assembly drawing will be required. For multistory buildings required more complex and more accurate assembly drawing for each floor with marking on the drawing which floor need which assembly to reduce complexity while erecting on site.
There is different type of assembly drawings
General assembly drawings, which shows over all detail oft the assembly with instruction
Outline assembly drawings, which describes exterior shapes and instructions
Diagrammatic assembly drawings, this will describe the drawings with use symbols
Why assembly drawings?
Assembly drawing is a part of erecting the structure on the site. General Assembly drawing contain the drawings for each part that required to assemble the whole structure on the site. They can be as simple as a single sheet showing a detail view of all the parts and how they fit together.
Past's drawing is a detail drawing of a structure or a product with its components connected. These each part are designed and fabricated separately and are assembled or installed together at sites so that each part fits and matches with the others to provide structural strength to the whole building or product.
How are assembly drawings done at total engineering consultants?
To generate Assembly drawing at Total engineering consultants we use combination of software to generate an industry standard assembly drawing.
We create a 3D model of the structure to understand the detail of the structure and make visualization how the structure will be installed on site.
Once the model is ready with its connection details, we generate the reaction drawing which is nothing but a type of drawing that provides detail information about how to build a large structure on site.
We send the erection drawings for approval to the client or engineer on project.
Once the erection drawing is approved here, we start doing the Assembly drawings
With the assembly drawing we provide (Bill of material) BOM