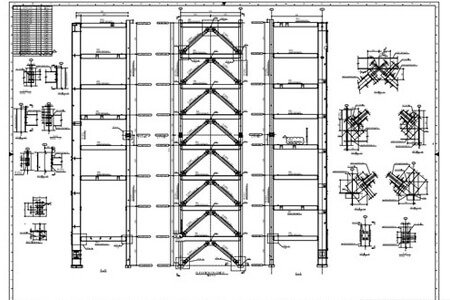 Erection drawings services
Our company's core business is providing steel erection detailing services. We have been in this business for more than 10 years and provide quality steel erection shop drawings to our clients. Total Engineering Consultants has an in-house team of steel structural engineers offering steel building drawings, assembly drawings, connection drawings, as part of its steel erection drawing service. We currently provide shop drawings detailing services to clients. To develop 2D / 3D erection shop designs and details, we use CAD and Tekla software. Our draftsman and detailing team have a wide range of experience to work on any fabrication, shop drawings projects that are used to fabricate the any complicated structure. We are always ready to learn and adopt new skills as well. Erection Drawings include all drawings, diagrams, design calculations, procedure manuals and other data required to depict in detail the proposed assembly and methods of installation of components into the project work.
Fabrication shop drawing services include:
Building elevation drawings.
Assembly drawings
Steel connection design.
Anchor bolt plan drawings.
Sectional elevation drawings.
Steel structure frame drawings.
Cross section drawings.
Roof and wall frame plan drawings.
Stairs and elevator plan drawings, and more.
Preliminary BOM for material procurement.
Erection drawings.
Necessary sections and enlarge connection details.
Fabrication drawings.
bill of material.
Part drawings.
Bolt list, material list.
Drawing log sheet.
3D cad model.
IFC model.
Erection drawings guide the steel erector when they are at the construction site. These drawings show detailed dimensions and plans to locate steel members. They show information such as bolting, welding, or installing anchors. Erection drawings are designed for use at site of work; it contain some specifications and information for the fabrication of requirements of any individual steel member.
How does total engineering consultants work?
Total Engineering consultants' detailers use a variety of Steel Detailing drafting software to meet the needs of our clients. Our team first analyst the drawings and tries to figure out any missing information at first the first place and creates a Request for Information (RFI) that needs to be resolved to get work done. Once that is done the next step is to create 3D models in Revit or Tekla software and try to make exact models as it would look on the work site and in large projects, we send progressive snapshots of the project to let clients know the progress. Once the Model is done that means all the missing information is resolved so far and we keep the log for maintaining the RFI's. At this stage we create an erection drawing to send our client to get approval from his project structural engineer.
Contact totalenc
You can tell your requirements for Steel erection drawings Detailing on our website Total Engineering Consultants LLC. We ask for your needs through a few simple steps. Go under the "Tell Us What You Are Looking For" section, type out your name, email address, phone number, and mention your requirement or service under the message section. Our team connects to you as quickly as possible. Enjoy unbeatable benefits and a smooth experience on Total Engineering Consultants LLC.